Information for authors and readers: In 2017 the journal was renamed to Advanced Linguistics. http://al.fl.kpi.ua/
The journal is peer-reviewed publication, supports a policy of open access to scientific publications.
Year of establishment: 2012
Branch and problems: Actual problems of philology; methods of teaching foreign languages in high school; modern trends and innovations in teaching foreign languages for professional purposes
ISSN 2410-8278 (Online), ISSN 2307-1591 (Print)
Certificate of state registration:
№ 19940-9740 HF PR
Indexed in: Index Copernicus (ICV 2014=50,20; ICV 2015=61,69), WorldCat, Google Scholar, BASE, OAJI, Сite Factor, UIF, Research Bible, I2OR.
Frequency: 2 times a year.
Languages of publication: Ukrainian, Russian, English, German, French
Founder: National Technical University of Ukraine "Igor Sikorsky Kyiv Polytechnic Institute"
Editor in Chief: prof. Nina G. Ishchenko
Editorial address: 
37, Peremohy Avenue, Office 727, Building 7,
Kyiv 03056 Ukraine
Tel.: +38 (044) 204-85-37, +38 (050) 133-86-25
e-mail: visnyk.fl.kpi@gmail.com
Website: http://visnyk.fl.kpi.ua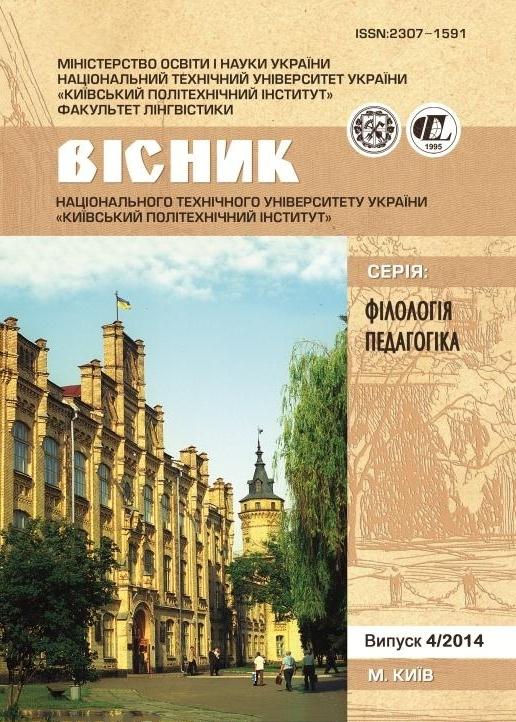 No 10 (2017)
Table of Contents
Philology
Education